The Prospect of Industry 5.0 in Biomanufacturing
Pau Loke Show, Kit Wayne Chew, Tan Chuan Ling
This is the first book to present the idea of Industry 5.0 in biomanufacturing and bioprocess engineering, both upstream and downstream. The Prospect of Industry 5.0 in Biomanufacturing details the latest technologies and how they can be used efficiently and explains process analysis from an engineering point of view. In addition, it covers applications and challenges.
This book enables readers in industry and academia working in the biomanufacturing engineering sector to understand current trends and future directions in this field.
Publisher: CRC Press
Publication Date: 2nd July 2021          BUY NOW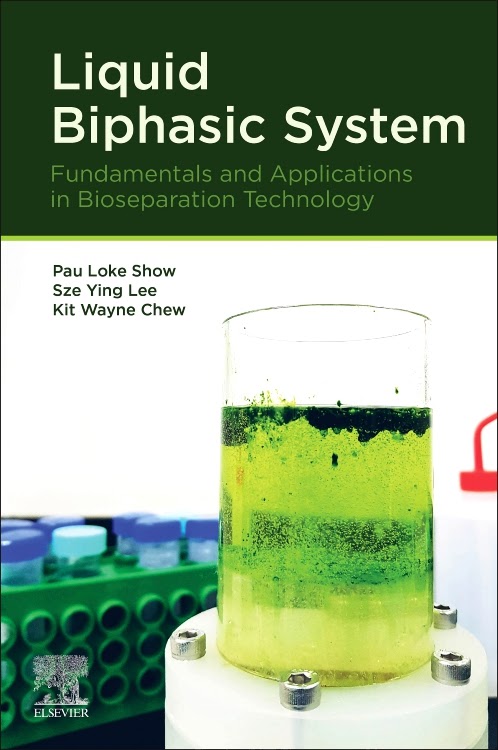 Liquid Biphasic System:
Fundamentals and Applications in Bioseparation Technology
Pau Loke Show, Sze Ying Lee, Kit Wayne Chew
Downstream bioprocesses have a significant role to play in the creation of a sustainable biobased economy, enabling the creation of new products and systems from the more sustainable bioprocessing of natural products. Liquid Biphasic System: Fundamentals and Applications in Bioseparation Technology explores in detail the fundamental processes and applications of this new separation system, aiding in the understanding of the basic principles of the technique and offering constructive criticisms of the latest findings. Including coverage of the background, principles, mechanisms, and applications, Liquid Biphasic System addresses how to adapt the technology for the purification of useful compounds with greater cost efficiency and greener processing. It is essential reading for bioprocess engineers, biochemical engineers, biosystem engineers, chemists, and microbiologists working in the fields of bioprocessing. Researchers, scientists, and engineers concerned with the selection and evaluation of alternative bioseparation processes will find the book particularly useful.
Publisher: Elsevier
Publication Date: 24th December 2020          BUY NOW
Bioprocess Engineering:
Downstream Processing
Pau Loke Show, Chien Wei Ooi, Tau Chuan Ling
Bioprocess Engineering: Downstream Processing is the first book to present the principles of bioprocess engineering, focusing on downstream bioprocessing. It aims to provide the latest bioprocess technology and explain process analysis from an engineering point of view, using worked examples related to biological systems. This book introduces the commonly used technologies for downstream processing of biobased products. The covered topics include centrifugation, filtration, membrane separation, reverse osmosis, chromatography, biosorption, liquid-liquid separation, and drying. The basic principles and mechanism of separation are covered in each of the topics, wherein the engineering concept and design are emphasized. This book is aimed at bioprocess engineers and professionals who wish to perform downstream processing for their feedstock, as well as students.
Publisher: CRC Press
Publication Date: 24th May 2019          BUY NOW