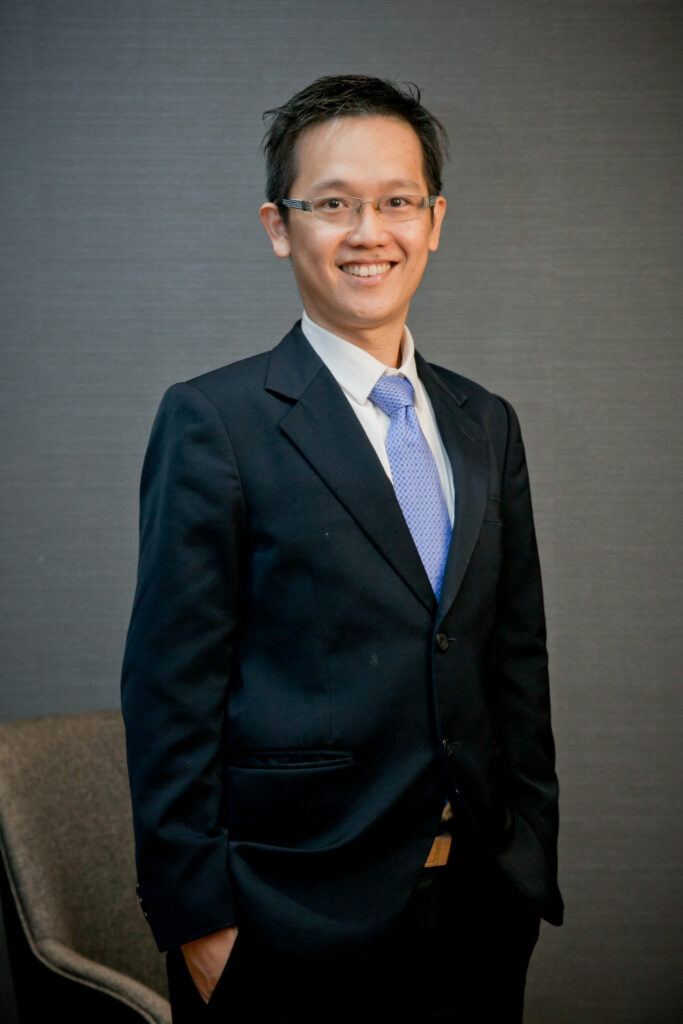 Professor Ir. Ts. Dr. Pau-Loke Show is currently a Full Professor in the Department of Chemical Engineering at Khalifa University, Abu Dhabi, United Arab Emirates. Also, he has been affiliated with University of Nottingham Malaysia, where he is the Professor of Biochemical Engineering, Director of the Sustainable Food Processing Research Centre and Co-Director of Future Food Malaysia, Beacon of Excellence. He is also the former President and Founder of International Bioprocessing Society based in Malaysia. Prof Ir. Ts. Dr. Show has successfully obtained his PhD in two years' time after obtaining his bachelor's degree from Universiti Putra Malaysia. In the year of 2022, he was elected as a Fellow of the Institution of Chemical Engineers IChemE (FIChemE). He is currently a Professional Engineer (PEng) registered with the Board of Engineers Malaysia (BEM), Chartered Engineer of the Engineering Council UK (CEng), Corporate Member of The Institution of Engineers, Malaysia (MIEM), and Professional Technologist (PTech) registered with the Malaysia Board of Technologists (MBOT). Prof Ir. Ts. Dr. Show obtained the Post Graduate Certificate of Higher Education (PGCHE) in 2014 and is now a Fellow of the Higher Education Academy (FHEA) UK.
Since he started his career in 2012, he has received numerous prestigious academic awards, including the recent Young Asian Biotechnologist Prize 2023, Biology and Biochemistry in Malaysia Leader Award, Highly Cited Researcher 2022, World's Rising Stars of Science in 2022, Ten Outstanding Young Malaysian 2022, Tan Sri Emeritus Professor Augustine S H Ong International Special Award on Innovations and Inventions in Palm Oil in 2021, APEC Science Prize for Innovation, Research and Education ("ASPIRE") Malaysia Award 2020, Malaysian Young Scientist 2019 Award, The DaSilva Award 2018, JSPS Fellowship Award 2018, Top 100 Asian Scientists 2017, Asia's Rising Scientists Award 2017 and Winner of Young Researcher in IChemE Award 2016. He has graduated more than 35 PhD and MSc students and is leading a team of 30 members consisting of Postdoctoral, PhD and MSc research students. Up to today, he has published more than 850 journal papers in less than 10 years of his career. His publications have been cited over 28,000 times over the past 5 years. His current h-index is 82, placing him among the top leaders of his chosen field (Microalgae Technology). He is also the Primary Project leaders for more than 35 projects from International, National, and Industry Projects, with total amount of more than 5.0 million.
He is now serving as an Editor-in-Chief in Current Nutrition & Food Science, Review Editor-in-Chief in Molecular Biotechnology, Deputy Editor-in-Chief in Bioengineered, Editor in Scientific Report, Biocatalysis and Agricultural Biotechnology, Associate Editor at Environmental Science and Ecotechnology, and Editorial Board Member in Bioresource Technology, Biochemical Engineering Journal, Journal of Ionic Liquids, Journal of Hazardous Materials, Environmental Advances, Chinese Chemical Letters, Environmental Technology & Innovation. He also managing lead guest editor for many well reputation journals, examples, Renewable and Sustainable Energy Reviews, Journal of Hazardous Materials; Biofuel Research Journal; Environmental Pollution; Chemosphere; Clean Technologies and Environmental Policy; Bioengineered; Processes; Energies; Biocatalysis and Agricultural Biotechnology; Frontiers in Energy Research; BMC Energy; Materials Science for Energy Technologies; Current Nutrition & Food Science. Prof Ir Ts Dr Show is an active reviewer for more than 150 esteemed international journals published by Nature, Science, Cells, Elsevier, Wiley, Springer, ACS, RSC and Taylor & Francis publishers. He has been recently awarded as the Top Peer Reviewer powered by Publons (Top 1% of Reviewers in Global Top Peer Reviewer Awards in Engineering, Global Top Peer Reviewer Awards in Cross-Field, Global Top Peer Reviewer Awards Chemistry, Global Top Peer Reviewer Awards in Biology and Biochemistry, Global Top Peer Reviewer Awards in Agricultural Sciences). Also, he has acted as a handling editor for more than 5000 submitted manuscripts in numerous journals.
Educational qualifications:
Ph.D. in Bioprocess Engineering Universiti Putra Malaysia, 2010-2012
PGCHE (Postgraduate Certificate in Higher Education) The University of Nottingham, 2012-2014
Bachelor of Engineering (Honors) in Process and Food Engineering Universiti Putra Malaysia, 2006-2010
Professional membership:
ASEAN Chartered Professional Engineer, Board of Engineers Malaysia ACPE-05188/MY
Invited Life-time Member, Malaysian Oil Scientists' and Technologists' Association, LM163/2021
Graduate Technologist, Malaysia Board of Technologists (MBOT), GT19060084, PT20010044
Charted Engineer, Engineering Council, UK, 643295
Member and Chemical Engineer, Institution of Chemical Engineers, UK, 99960109
Professional Engineer, Board of Engineer, Malaysia, PE18678
Graduate Member, The Institute of Engineer, Malaysia, 27315
Graduate Engineer, Board of Engineer, Malaysia, GE80348A
Malaysia Representative, IChemE Biochemical Engineering Special Interested Group, 99960109
The Society for Biotechnology (Japan), SBJ Membership no.: 900550 (Year 2019)
Fellow, Higher Education Academy, UK
Affiliate Member, Young Scientist Network, Malaysia.
Co-opted Member, Agricultural and Food Engineering Technical Division, The Institution of Engineers, Malaysia (IEM), Session 2021/2022
Advisory Board Member, Asian Federation of Biotechnology (AFOB) 
Responsibility:
Department level:
s-CPD Scheme Person-in-Charge
Director of Research
Website and Facebook – Administrator
Safety Team (Research Ethic)
Marketing Team, exhibition / promotion
Research Assistant Duty Officer
IT – Coordinator
Teaching Design Team – Member
Year 1 Laboratory Team – Member
Admissions & Recruitment Team – Member
Deputy Director of Accreditation and CQI
PO12 Champion – Life Long Learning
Faculty level:
CEE departmental representative in faculty research committee
CEE departmental representative in faculty s-CPD scheme
Faculty Marketing Team – Representative Department
Research Community Representative, Faculty of Engineering Health and Safety Committee
Faculty Research Operation Group (FROG) – Representative Research Division
Dean's Undergraduate Research Scheme (DURS) 2014 – Coordinator
Manufacturing and Industrial Processes Research Division – Member
Centre for Food and Bioproducts Processing – Member
Research Away Day – Organising Committee
Involved in EAC accreditation visit preparation
University level:
Director of Sustainable Food Processing Research Centre
Co-Director of Future Food Malaysia Beacon of Excellence
NAA Module Convenor for FOSE Internship
Bio-Separation Research Group – Leader
Food and Pharmaceutical Engineering Research Group – Member
Molecular Pharming and Bioproduction Research Group – Member
Women in Science and Technology (WinSET) – Multimedia & Publicity Team Leader
Gender Equality in Nottingham (GEN), 2017 onward – Communications Officer
Research Ethics Committee in Nottingham University Business School (NUBS), UNMC – Faculty of Engineering Representative
University Safety Committee – Representative research division
F1 Talk 2013 (University Event) – Coordinator
Info Day, Open Day and International School Visit – Organising Committee
Organising Industrial talks open to all staff and students – Organising Committee
PhD/MSc examiner for the following universities
Universiti Sains Malaysia, Malaysia
Universiti Putra Malaysia, Malaysia
University of Malaya, Malaysia
Indian Institute of Information Technology, Allahabad, India
University of Technology Sydney, Australia
Nanyang Technology University, Singapore
Savitribai Phule Pune University, India
University of Waikato, New Zealand
UCSI University, Malaysia
Universiti Teknologi PETRONAS, Malaysia
Monash University, Australia
Vellore Institute of Technology (VIT) University, India
Monash Sunway University, Malaysia